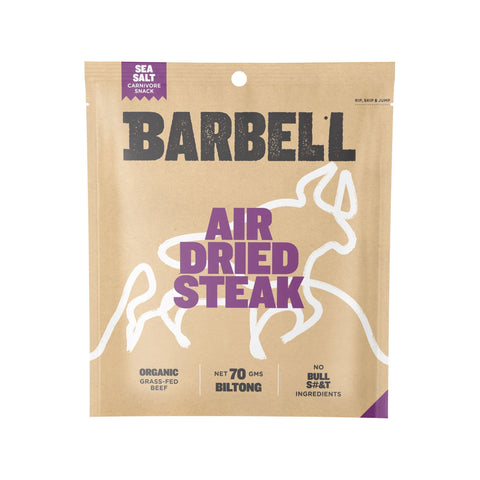 Barbell Biltong Sea Salt 70g
Introducing Barbell Biltong Sea Salt - the snack that will tantalize your taste buds and supercharge your health! Our premium beef biltong is expertly crafted, marinated in zesty sea salt, and air-dried to perfection. Packed with protein, this savory delight is your gym buddy's best-kept secret.
Each succulent bite of Barbell Biltong Sea Salt unleashes a burst of flavor and a protein punch that fuels your workout and promotes muscle recovery. It is also the perfect on-the-go snack which is full of protein and low in carbohydrates so will keep you going throughout your day. So, whether you're pumping iron or conquering your daily grind, grab a pack and savor the power of protein, one scrumptious strip at a time. Strengthen your snack game with Barbell Biltong Sea Salt!